I'm Jenny, I'm a mother of three and I moved to this beautiful part of the New Forest when my children were small. Like many mums I have always juggled career and children and since moving here I have worked as a classroom teacher in many of the local schools in the  New Forest area. I have taught every year group in key stage 1 and 2.
I originally began tutoring because I was asked, by one of the parents in my class, if I could provide some extra one to one help for her son who was dyslexic. I discovered that I had an absolute passion for tutoring, I love it.
Through word of mouth it snowballed and over the years I have helped so many different children including those with special needs. I've supported and reassured my pupils to overcome English or Maths difficulties, provided "catch-up" sessions, given extra help during the transition period to secondary school (yr 7) and provided preparation for SATs (yr 2 and yr 6) and 11+.
There is nothing better than seeing a child growing in confidence and enjoying their learning. I feel very lucky to be able to say that my job doesn't feel like work and better still, I am able to make a genuine difference.
My own children are all very different with different interests, different educational abilities and different needs and this is reflected in the children I have tutored – every child is unique. The benefit of one-to-one tuition is that I can tailor the lesson to the individual.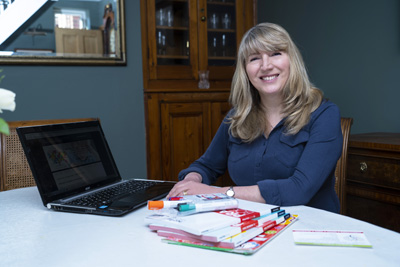 As a mum, I have had first-hand experience of navigating through the local education system - choosing their first school, weighing up their secondary options; including the local grammars; and ultimately, supporting their decisions for university. Along the way, I have dealt with emotional and educational issues at school, various reading and spelling schemes, homework, SATs, 11+, choosing options in key stage 3, GCSES and 'A' levels and all the other stuff that gets thrown at you as your children grow up.
Also, I have witnessed at first hand the increasing educational and social pressures on young people, and as your child's tutor I can offer advice and support at any time. If you need a confidential chat or a quick bit of advice I'm on the end of the phone and if I can't help you I will do my best to direct you to someone who can.